Created by iNFiNiTi
Developed by Myke Phillips
Exclusive to Saturn Magic
Imagine walking up to someone and asking them to name a random celebrity. Then, with little or no work whatsoever… under your control… your phone rings… and it's them.

This is THE ultimate 'thought of person' revelation that is so seamless… it just doesn't seem fair.

After the huge success of the original Magicall app in 2019, and, following an entire year of powerful development, we bring to you the HOLY GRAIL of fake calls.

At your thumb tips, a fully integrated system for generating incoming call revelations in a range of unbelievable ways, with what will feel like an infinite number of features and possibilities.

Your iPhone Needs Magicall.
"Absolutely Spendid"

-Boris Johnson

…
All these features at your fingertips:
*Impromptu access to a pre-populated database of over 1,000 Celebrities and their caller photos

*(NEW) Add Your Own Contact

*Super-Quick-Type-Input (as fast as it takes to unlock your phone!) for receiving a call off ANYONE else named on the spot, including a spectator's loved one, mother or boss

*(NEW) Voice Recognition
Have your phone auto-detect a spoken celebrity and automatically schedule a call from them – it doesn't get any easier than this

*(NEW) Card Recognition (special Celebrity Playing Cards inc. with app purchase)
Featuring advanced Augmented Reality software, your iPhone camera will recognise a spectator's freely chosen celebrity card and automatically schedule a call from them
*(NEW) Inject Integration
Have your phone auto-ring from ANY googled celebrity (human being or fictional character)

*(NEW) Set up 'One Tap' calls from your favourite contacts on your lock screen

*Bluetooth Remote Control Compatibility

*(NEW) 150 x Celebrity Ringtones

*(NEW) 50 x Live Celebrity FaceTimes
Answer the call and switch to 'interactive' video chat -the ULTIMATE convincer

*(NEW) Record your spectator's FaceTime interaction and Reaction
Save it straight to the camera roll !

*(NEW) 3 x Interactive speaker phone conversations with Tom Cruise, Boris Johnson and David Beckham with the option to have them reveal a spectator's playing card

*Stooge Mode
Secretly communicate with a spectator to play along with the call and pretend it's real

*The most realistic fake all app ever made customisable ringtones, picture display settings, caller delay and proximity sensor

*In depth teaching, detailed live performances. Access to the amazing Magicall Hotline Facebook Community

*Voice Recognition*
Speak a celebrity name and have your phone secretly pick it out of the conversation and programme a call from that person.
*Inject-A-Call*
Fully integrated with Greg Rostami's Inject app. This means you can have a spectator Google ANYONE on their phone, and, totally hands off – your mobile will ring from that person. Technology does ALL the work.

*BONUS*
*Guess Who's Calling!?"
Learn the creator, Mark iNFiNiTi's brand new handling which lets your spectator guess who's calling you, while the phone is ringing! That's right, your phone can be ringing BEFORE they name the caller!
Add on a deck of specially designed Celebrity Playing Cards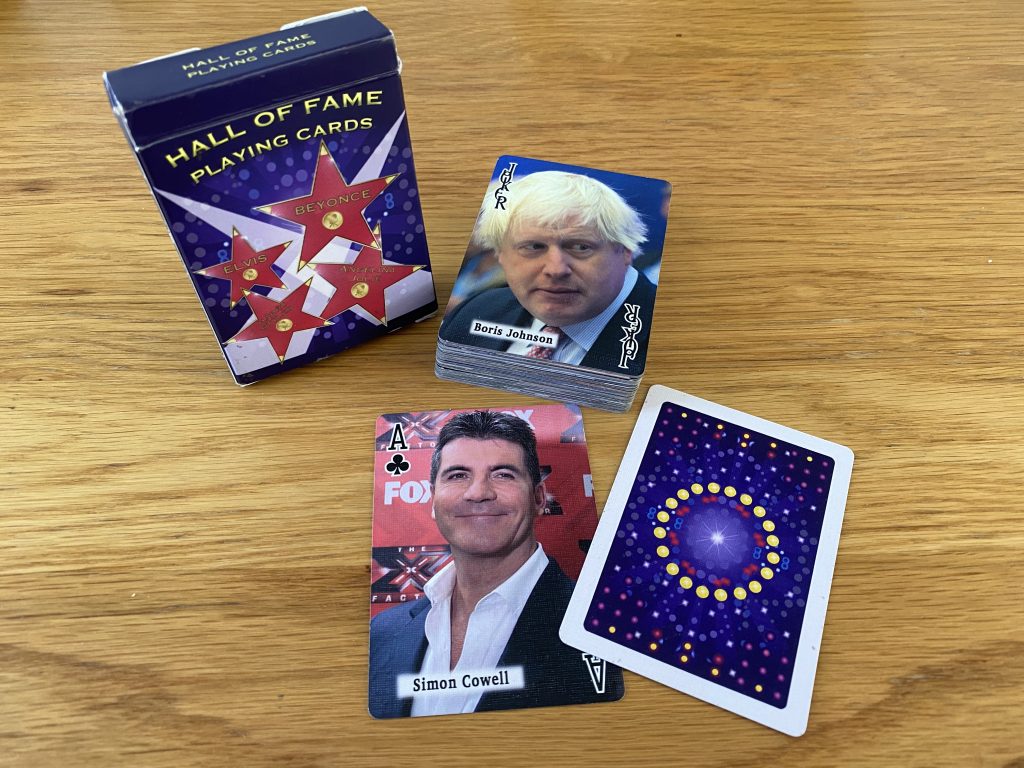 A beautifully printed deck of 54 Hall of Fame branded playing cards featuring 54 of the world's most popular celebrities from Brad Pitt, Angelina Jolie, Simon Cowell and Madonna, to Robert De Niro, Beyonce and the two Jokers Boris Johnson and Donald Trump. All males on black cards, all females on reds.

They are all pipped and can be used as a normal deck or to force your favourite celebrity.

You'll need these cards if you want to use the app's advanced augmented reality face recognition. Each face is automatically recognised by the iPhone camera for sublime hands-off call scheduling.

The backs are also cleverly marked which means you have the option to input the call in secret using any compatible Bluetooth Remote Control.

IMPORTANT
TV RIGHTS NOT INCLUDED

Magicall is not on the App Store – it is EXCLUSIVELY available from www.saturnmagic.co.uk

iPhone Only – compatible with all models from iPhone 6 and above (excl the SE)

English Language Only

Minimum Operating System required iOS 12.1

File Size: 1.5GB

You are paying for a download to a SINGLE IPHONE ONLY.
Upgrading your phone and a new download will incur a transfer fee of £10 (and the app will be disabled on the old phone)